Home > Doliva Skin Care > Doliva Shampoo
Your Shopping Cart | Check Out
Doliva Shampoo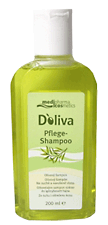 Adds Shine and Life Back to Your Hair
Dry and damaged hair often appears dull and lifeless. Doliva Shampoo is individual care that will give your hair its shine and vitality back again.
This shampoo has been specially developed for normal to dry hair. A combination of moisturizing actives and cold-pressed olive oil keeps the moisture content of your hair and the natural balance of your scalp, leaving your hair looking healthier.
Benefits:
Restores shine to hair
Moisturizes hair
Leaves your scalp healthier
Use: Use Doliva shampoo often to add shine and life back into your hair. Great for dry or damaged hair. Use before Intensive Conditioner.
Made In Germany by Medipharma Cosmetics
Read More: