Your Shopping Cart | Check Out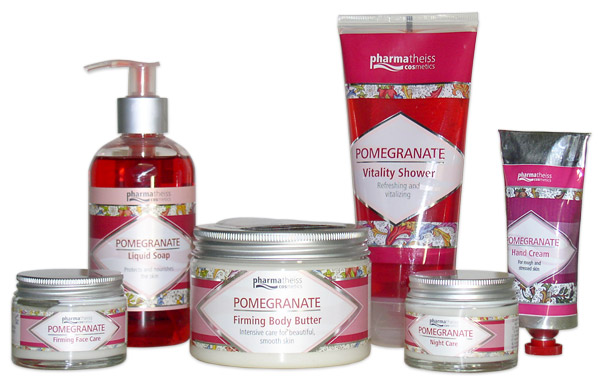 Pomegranate Skin Care from PharmaTheiss
The Secret To A Youthful Complexion
PharmaTheiss' new line of Pomegranate skin care products has the anti-aging formula with a triple effect: (1) Boosts the skin from the inside and reduces the depth of wrinkles, (2) ensures a fresh and youthful complexion, and (3) strengthens the skin's structure (the network of collagen rebuilds, improves skin firmness, restructures the skin).
The PharmaTheiss Pomegranate line of skin care products includes 3 innovative active substances which makes the perfect anti-aging combination:
Pomegranate seed oil is an antioxidant and protects skin cells. It's high proportion of punicic acid and linoleic acid strengthens the skin's protective barrier.
Pomegranate extract protects the cells against free radicals. It contains more polyphenols than grapes and protects the cells from the aging process.
Extra Virgin Olive Oil improves skin moisture and strengthens the connective tissues. It is also anti-inflammatory and protects the cells and skin structure.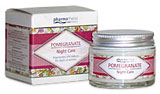 Works to regenerate your skin
while you sleep.
$18.75

Buy Now


Pomegranate Firming
Body Butter
Strengthens and protects from
negative environmental impact
$16.17

Buy Now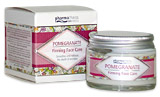 Reduces wrinkles giving you
a fresh and youthful complexion
$18.75
Buy Now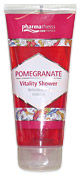 Firms and nourishes dry skin
while you take a shower
$14.55
Buy Now

Skin Care Benefits of Pomegranate
Pomegranates have been called the king of eternal youth. No other fruit can help so well against all signs of skin aging as pomegranate. Its valuable ingredients enliven the kerationocyten, protects against evironmental stress caused by aggressive oxygen molecules - so-called "free radicals" - and gives the skin the necessary energy, so it can look fresh and rosy. In our skin care line, the pomegranate oil works together with high quality olive oil, ingredients from avocado oil and dermatologically proven ingredients, such as panthenol and hyaluronic acid, to give your skin glowing results no other line of beauty products can match.
As a skin moisturizer, the oil in pomegranates has been found to slow down the process of ageing by reducing wrinkles and fine lines. The pomegranates found in PharmaTheiss' beauty products help smooth and firm your skin by increasing collagen and elastin production which will soften your skin. It increases skin elasticity while toning your skin to give your complexion a healthy glow.
Pomegranate's powerful antioxidants help prevent and repair free radical damage from damaging environmental factors that age your skin prematurely. It helps to renew skin cells while preventing and smoothing wrinkles for age defying results. Pomegranate also offers protection from the effects of the sun. It's antioxidants can help protect against sun damage, skin cancer and the visible effects of the sun.
Through the targeted use of pomegranate natural cosmetic products, you can achieve a triple effect for a teen-fresh charisma and a beautiful, youthful complexion. The effects have been confirmed by an independent dermatological institute.
Use PharmaTheiss' Pomegranate Skin Care and Beauty Products and your skin will be healthier and look younger and more radiant.
Click here for 5 tips to healthier skin.
---
When you buy from ProNatura's Online Store you are sure to get the highest quality natural health supplements and beauty products available on the internet.
Pronatura is pleased to offer its customers product brochures and literature upon request.
Pronatura.
Call: 1-800-555-7580
Providing Years of Exclusive Medical Recipes from Europe.