Home > Health Articles > 5 Tips for Healthier Skin
Your Shopping Cart | Check Out
5 Tips for Healthier Skin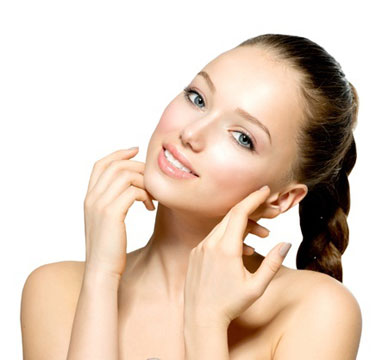 Learn the secrets to having healthier, more beautiful skin
Below are five tips to follow to keep your skin healthy and beautiful:
Tip 1: Cleanse
Be sure to remove the day's makeup. Even if you are too tired after a long day, take the time to remove your makeup. Your makeup acts as a mask and clogs your facial pores, preventing your skin from breathing. Clogged pores leads to many skin problems, such as acne, blackheads, and/or whiteheads. Beauty experts agree that it is very important to remove your makeup before you go to bed to maintain your healthy complexion.
For the rest of your body, you should use a soap that's not too harsh and will not dry out your skin like most name brand soaps. A good soap will hydrate your skin and nourish it so it will be protected throughout the day.
We recommend:
Doliva Cleansing Milk
Doliva Cleansing Tissues
Pomegranate Liquid Soap
Pomegranate Vitality Shower
Tip 2: Moisturize
You should moisturize your face daily to keep it hydrated. A good moisturizer not only helps fix dry skin, but it also helps to keep normal skin hydrated. It is a good practice to moisturize your face daily after your bath. It's also a good idea to apply an overnight moisturizer to help maintain your complexion while you sleep.
We recommend:
Pomegranate Firming Face Care
Pomegranate Night Care
Doliva Facial Care
Doliva Fresh Balsam
Tip 3: Exfoliate
You should exfoliate your face at least twice a week to remove the dead cells that are clogging your pores. When the pores on your face are clogged it can lead to acne breakouts and blackheads. Exfoliating your skin will also improve your skin's glow and remove all the unwanted toxins which lead to problems.
Tip 4: Sunscreen
Exposure to the sun has a very harmful effect on your skin. When your skin gets over-exposed to the damaging rays of the sun, skin cancer and premature aging are just two of the harmful effects. You need to protect your skin with the use of a good sunscreen. No matter what the season or what the weather, it is always a good idea to use sunscreen.
Tip 5: Eat Properly
A properly balanced diet not only keeps your body in shape... it also keeps your skin looking great. When your skin does not get the necessary nutrients it has a hard time keeping its delicate balance of essential oils. Your daily diet goes a long way in contributing to healthy skin.
Pronatura is pleased to offer its customers product brochures and literature upon request.
Pronatura.
Call: 1-800-555-7580
Providing Years of Exclusive Medical Recipes from Europe.