Your Shopping Cart | Check Out
Dr Theiss Pure Plant Oil Soaps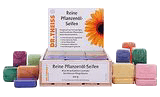 Dr Theiss Pure Plant Oil Soaps are made from high-quality,skin-friendly plant oils and plant extracts.
No artificial preservatives
No animal fats
No free alkali
Biodegradable
Dermatologically tested
Made in Germany
Pronatura is pleased to offer its customers product brochures and literature upon request.
Pronatura.
Call: 1-800-555-7580
Providing Years of Exclusive Medical Recipes from Europe.