Your Shopping Cart | Check Out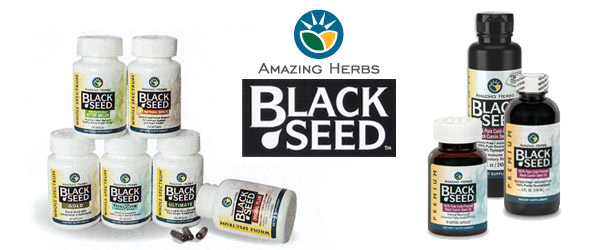 Health and Well-Being with Black Seed Supplements
Amazing Herbs pioneered cold-pressed Black Seed oil nearly 20 years ago, and now Pronatura is proud to carry it's Premium Black Seed Oil and Whole Spectrum Formula dietary supplements.*
Black Seed Supplement Benefits
For centuries, the Black Seed (Nigella Sativa) herb and oil have been used by millions of people in Asia, Arabia, and Egypt to promote health and well-being. Also know as "Black Cumin," Nigella Sativa is one of the most extensively studied herbs, both phytochemically and pharmacologically.
Over 500 separate peer-reviewed studies since 1956 describe Nigella Sativa as a powerful anti-oxidant and hail its effects on inflammatory and immune system response. Thymoquinone (TQ), the active ingredient only found in Nigella Sativa, is responsible for this and a host of other benefits. Amazing Herbs Premium Black Seed oil contains the highest level of naturally occuring Thymoquinone available on the market.
*These statements have not been evaluated by FDA. These products are not intended to diagnose, treat, cure or prevent any disease.
Pronatura is pleased to offer its customers product brochures and literature upon request.
Pronatura.
Call: 1-800-555-7580
Providing Years of Exclusive Medical Recipes from Europe.