Home > Doliva Skin Care > Doliva Facial Care
Your Shopping Cart | Check Out
Doliva Facial Care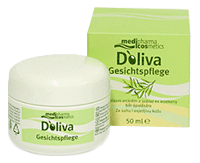 Item #4301
Doliva Facial Care
50ml (1.69 fl. oz.)
$11.58
Out of Stock
Gently Moisturizes Your Skin
Doliva Facial Care is a high-quality face cream with natural olive oil that gently supplies your dry and sensitive skin with oil and moisture.
After using Doliva Facial Care daily, your face will look and feel smoother and more vibrant.
Benefits:
Moisturizes skin
For dry and sensitive skin
Use: After cleansing, apply cream to face and throat. Do this twice a day – morning and evening.
Made In Germany by Medipharma Cosmetics
Read More: