Home > Doliva Skin Care > Doliva Cleansing Milk
Your Shopping Cart | Check Out
Doliva Cleansing Milk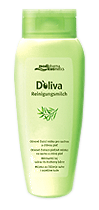 Item #4314
Doliva Cleansing Milk
200ml (6.76 fl. oz.)
$12.60
Gently and Deeply Cleanses Pores
Doliva Cleansing Milk provides pore-deep cleansing and gentle skin care. This gentle cleansing formula removes make-up mildly and deeply and gently cleanses pores.
The extra virgin olive oil with panthenol in Doliva Cleansing Milk helps to protect against premature aging and moisturizes the skin.
Benefits:
Cleanses deep into the pores
Protects against premature aging
Moisturizes the skin
Use: Gently rub Doliva Cleansing Milk into the skin twice a day and rinse with water.
Made In Germany by Medipharma Cosmetics
Read More: