Home > Doliva Skin Care > Doliva Eyes Contour Gel
Your Shopping Cart | Check Out
Doliva Eyes Contour Gel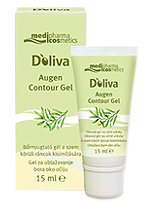 Item #4308
Doliva Eyes Contour Gel
15ml (.51 fl. oz.)
$12.60
Helps Reduce Wrinkles and Puffiness
Doliva Eyes Countour Gel is a moisturizing gel that reduces the wrinkles around the eyes while calming and cooling the sensitive skin around your eyes. The pleasantly cooling gel absorbs quickly and gives you radiant freshness.
This innovative formula with olive oil, alpha bisabolol and hyaluronic acid provides the delicate skin around your eyes with sufficient moisture.
Contains no fragrances or dyes.
Benefits:
Calms and cools sensitive skin around the eyes
Helps reduce wrinkles around the eyes
Moisturizes the delicate skin around the eyes
Use: Apply Doliva Eyes Contour Gel gently around the eyes in the morning and at night.
Made In Germany by Medipharma Cosmetics
Read More: