Home > Allga San > Allga San Rubbing Gel
Your Shopping Cart | Check Out
Allga San Mountain Pine Rubbing Gel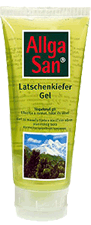 Item #4102
Allga San Mountain Pine Rubbing Gel
100 ml (3.38 fl. oz.)
$8.74
Quick and Easy Remedy for Tense, Sore Muscles!
Whether you spend your days typing at a computer or running sprints on a football field, Allga San Mountain Pine Rubbing Gel is a quick and easy remedy for tense, sore muscles and over-strained musculature and joints. This cooling gel may be massaged in small doses and is refreshing and invigorating any time your tense muscles need to relax.
Allga San Mountain Pine Rubbing Gel cools and soothes as it relieves your sore muscles. The gel uses the soothing and healing elements of Mountain Pine oil, Arnica extract, and Vitamin E to subdue pain and release tension throughout your neck, back, and legs.
Benefits:
Relaxes tense muscles
Cools and soothes sore muscles
Revitalizes fatigued areas
Application: After a hard day at work or exhausting sports activity, use the soothing and refreshing Allga San Mountain Pine Rubbing Gel to massage away the stressed, fatigued areas of your body for a revitalized, relaxed sensation.
Avoid contact with eyes and mouth.
Do not use for infants or children.
Made in Germany