Home > Allga San > Allga San Pine Repair Cream
Your Shopping Cart | Check Out
Allga San Pine Repair Cream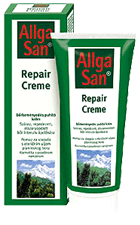 Item #4107
Allga San Pine Repair Cream
90 ml (3.04 fl. oz.)
$8.74
Intense Moisturizing Cream for Dry and Callused Skin!
Allga San Pine Repair Cream is an intensive moisturizer for your dry, torn, and callused skin. The special skin-repairing qualities of Allgäu Mountain Pine work to return elasticity and resilience to extremely damaged, heavily callused skin.
Infused with infection preventative ingredients, this moisturizing cream promotes the healing process of cracked, damaged skin. Allga San Pine Repair Cream also helps to repair the small but painful tears that can occur on the heels of your feet.
Benefits:
Moisturizes extremely dry and callused skin
Gives skin elasticity and resilience
Promotes healing of cracked skin
Helps to repair tears on the heels of your feet

For the best healing results, use Allga San Pine Repair Cream in combination with the Allga San Mineral Foot Bath.
This product is suitable for diabetics.
Application: Thoroughly massage Repair Cream into dry, callused skin twice daily, in the morning and evening.
Made In Germany