High Quality Natural
Supplements & Health Products
Pronatura Inc., as well as NatureWorks Inc., was created in July 1984 by Dr. Peter Theiss in California. The company was originally the sole distributor of Maria Treben's book, Health Through God's Pharmacy, but later expanded to include a growing number of unique natural health products and supplements which offer benefits to nearly all aspects of an individual's well being. When you buy from ProNatura's online store you are sure to get the highest quality natural health supplements and products available on the internet.

Pronatura now brings the original Dr. Sklenar Genuine Recipe Kombucha Tea, Press Extract & Capsules to the United States for the first time.
Buy Now


A new line of skin care products which uses the pomegranate's natural anti-aging properties. Regular use will ensure a fresh and youthful complexion, while strengthening your skin.
Buy Now


The extra virgin olive oil from Toscana is specially selected for the production of Medipharma Cosmetic's Doliva olive oil skin care line.
Buy Now


Calendula (Marigold) Ointment brings a fast relief to pain in wounds, frost bites & burns. It is excellent for Athlete's foot, rough dry skin, and baby care.
Buy Now


Allga San uses the finest pine oil in Germany to create products that promote blood circulation, address inflammation and pain, and eases sore muscles.
Buy Now


Amazing Herbs pioneered cold-pressed Black Seed oil nearly 20 years ago, and now Pronatura is proud to carry it's Black Seed Oil dietary supplements..
Buy Now


Small Flowered Willow Herb Capsules help promote a normal healthy prostate.
Buy Now


Pronatura Inc. was originally the sole distributor of Maria Treben's book, Health Through God's Pharmacy
Buy Now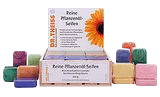 Dr Theiss Pure Plant Oil Soaps are made from high-quality,skin-friendly plant oils and plant extracts.
Buy Now

Pronatura is pleased to offer it's customers product brochures and literature upon request.
Pronatura.
Call: 1-800-555-7580
Providing Years of Exclusive Medical Recipes from Europe